Hawaii Islands 01-14 February 2020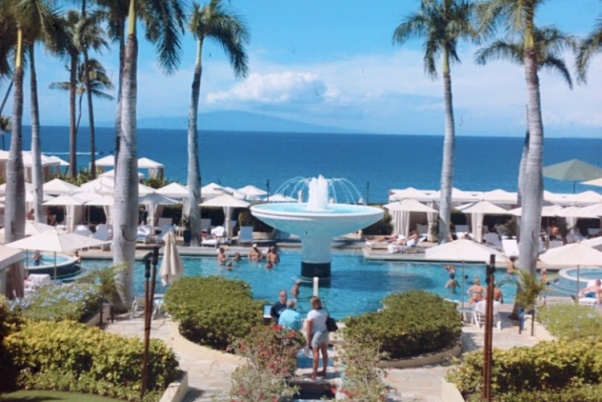 Hawaii 01-14 February 2020
The Big Island
The Big Island is so unique to any of the other Hawaiian islands because of all the volcanic activity it make for a very unusual landscape. The weather varies drastically from the coast to the mountains.
A night snorkel with the manta is a must.  
Mauna Lani – Auberge Collection
https://aubergeresorts.com/maunalani/
This property was a favourite on our trip.
Its looking absolutely fabulous after the multimillion refurbishment.
Staff were incredibly friendly making for an even better stay 
The sunrise canoe trip is a must!
All the Virtuoso amenities are offered when staying at Mauna Lani
Maui
Each beach or region of Maui has something different to offer
It's also renowned for golf and the Road to Hana
The Montage Kapalua Bay
https://www.montagehotels.com/kapaluabay/
Located West Maui
Stop for a famous pie at Leoda's Kitchen & Pie Shop
Great resort, lovely manicured grounds, huge suites 2 bedroom, 2 bathroom
Akin's Jump Rock is a real winner and perfect for golden hour sunset photos
All the Virtuoso amenities are offered when staying at The Montage

Dinner at Merriman's 
https://www.merrimanskapalua.com/kapalua/
A pioneer in the "Farm to Table" concept, Peter Merriman serves only the freshest produce,  which are locally grown or caught, using only sustainable methods.
The view is outstanding too! 
Four Seasons Wailea
https://www.fourseasons.com/maui/

The best hotel on the Wailea strip by far. The complimentary pool cabana's are highly sort after.
Service is impeccable
Ensure you get ocean view rooms
So many dining options. 
All the Virtuoso amenities are offered when staying at The Four Seasons
Highly recommend catching the 45min ferry froim Maui to Lanai for a few nights to round off your Hawaiian Island experience
Lanai
The least populated of the islands, and a 45min ferry ride from Maui or short flight from Oahu.  
Wake up before the rest of Lanai and make the 15min hike from Four Seasons Manele Bay to see a  brilliant sunrise at Puu Pehe, also known as Sweetheart Rock. Separating Hulopoe Bay to Manele Bay, Sweetheart Rock is not only one of the islands most beautiful spots but its also drenched in Hawaiian history.
For an off road experince visit Kaiolohia, also known as Shipwreck Beach, it's another beauty.
The sound of silence can be heard on many of the islands hiking trails, including seven mile Munro Trail which takes visitors through ferns, pines and to the summit of Lanaihale. On a clear morning six islands you can seen from this vantage point.
Not one but two Four Seasons Resorts!
Lanai has two Four Seasons Resorts.
Four Seasons Lanai at Manele Bay & Sensei the lodge at Koele 
https://www.fourseasons.com/lanai/

Manele Bay Resort overlooks Hulopoe Bay. It has new restaurants including One Forty and Nobu! Yes Nobu ????. There is a serenity pool, family pool and swim up spa areas & poolside dining.

https://www.fourseasons.com/sensei

The lodge is located in the mountain amongst the trees and focuses on wellness.
Oahu
The heart of Hawaii – Its fundamental contrast between the ancient and the modern that makes discovering Oahu from the bustling city life to laidback surf towns so enjoyable. There are plenty of different options for exploring Oahu's different regions, the islands many activities, its eclectic restaurants and abundance of different hotels.   
International flights arrive daily into Honolulu and you will head straight to Waikiki, which is the main tourist area and reminds me of the Gold Coast in Australia but on steroids.
Everyone visits the "Cheesecake Factory"
The Halekulani
https://www.halekulani.com/

Closed for renovations during Covid-19. Re-Opening date is July 2021
With a warm, sophisticated, boutique & residential style property, The Halekulani will suit your every need  especially after the Covid19 full renovation that is taking place.
With its iconic Instagram able swimming pool, prime beachfront location and attention to detail, The Halkekulani will never disappoint.    
The Royal Hawaiian
https://www.royal-hawaiian.com/

The most coveted spot on Waikiki Beach is at The Royal Hawaiian. Known for its brightly-coloured "pink" exterior and within the billowing sanctuary of private beachfront cabanas & lush gardens. A Mai Tai at the beachfront bar is a must. The luxurious guest rooms showcase an unrivalled panoramic view of Diamond Head and the Pacific Ocean alike. 
Four Seasons Resort Oahu at Ko'Olina
https://www.fourseasons.com/oahu/

Located on the island's secluded western coastline, Four Seasons welcomes you to an exclusive five-star beach resort that captures a distinct sense of place with authentic Hawaiian tradition.
Easy access to the airport, shopping outlets and a short drive to Waikiki makes for a great location away from the busy, craziness of Waikiki.
Michael Mina's Fish House
Is an absolute must!
https://www.michaelmina.net/restaurants/minas-fish-house/